Grand Opening Promotion: Save $429* on Dental Implants!
Dental implant prices in Toronto vary quite a lot depending on the complexity of the case, ranging from $3500 - $6500 for a single tooth. For our Grand Opening, Humewood Dental will be offering the implant fixture to all patients of the practice for FREE, saving you $429* on your treatment.
Whether you need a sinus lift or bone grafting, Dr. Herblum will workup your case and complete your entire dental implant treatment from start to finish.
*The $429 amount will be discounted following the completion of the implant treatment. For patients of the practice, having completed a New Patient Exam, X-rays, and cleaning.
What are dental implants?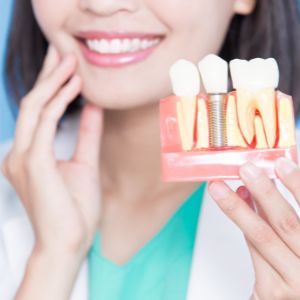 Dental implants are one of the most popular dental treatments for missing teeth. They are artificial and custom-crafted roots made of titanium metal, anchored to the jawbone or metal framework below the gum line and act as a foundation for an artificial tooth or permanent bridge. This ensures that implants develop a strong connection to the jaw and last a long time.
Dental implants are usually made of a biocompatible metal, such as titanium, since it is easily accepted by the human body and integrates tightly with the jaw for a stable connection. It mimics the look and feel of natural teeth to give you back your beautiful smile.
Surgery is necessary to prepare your mouth and to place the implant in the mouth. Following the procedure, a period of time is required for the implant to take hold and for bone tissue to build up and anchor the device. Patients will be administered anesthesia during the surgery and, if necessary, antibiotics to stave off infection following the procedure. Like any restoration, implants require diligent oral hygiene and proper care to ensure they last a long time.
Benefits of dental implants
Dental implants are popular for many reasons, such as:
They replace your missing teeth to help prevent or slow bone resorption and preserve your natural facial contours
They look, feel and function just like real teeth to allow you to eat and talk as normal, improve your smile and give you a boost of confidence
They are permanent solutions and last a long time with proper care
They are stain-resistant and cavity-proof
If you are interested in dental implants, book a consultation appointment at our St. Clair West dental office today! Dr. Herblum will assess your bone structure and gums to see if implants are the right option for you.